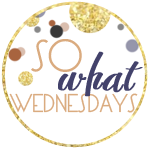 This week I'm linking up for So What! Wednesday . . .
So what if . . .
I'm trying my hardest not to listen to any news. I just can take how childish this shutdown has gotten.
I got a "happy light." This light is supposed to emit whatever is in the sun that makes you feel good. I get a serious "I don't want to do anything" attitude when it's gray for a few days. Hoping this will change that!
I have a strong desire to cook every cold weather recipe I know of. One fall day and I'm ready to bust out the flannels and hunker down for the winter.
I'm really nervous to leave my dog and cats while I'm traveling for work. Normally they stay with my parents when I'm gone, but they are going to be in Florida. I still don't 100% know where they will go. . .
I haven't checked one thing off my fall bucket list. I still have a whole month right?
I'm excited for Thanksgiving at my parents this year. As much as I love entertaining, I love their HUGE kitchen and awesome appliances more (I always cook no matter where it is).
I have 13 things on my list this week, it's already Wednesday, and I've only accomplished 2.
What are you saying So What! to this week?